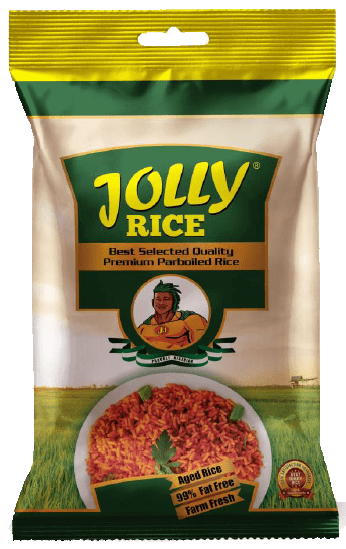 Rice has recently grown as a staple for the African cuisine after Yam with its integration into the nation's grass-root levels. In a typical West African household, rice is consumed around 2-3 times a week encouraging a buying behavior skewed towards smaller consumer packs optimal for a weekly or a monthly consumption.
Driven by this consumer behavior VASCORP ventured into the retail marketing of rice with the brand Jolly. Jolly Rice comes in a pack of 750 g, ideal for weekly consumption of a nuclear family of 4-5 members. The company procures from world-class rice mills at strategic locations in Nigeria providing the necessary motivation for increased local production of paddy to build sufficiency in rice.
VASCORP's aim is to keep the tradition of rice consumption alive and strong through care and provision of fresh, safe and pure rice grains to the miniscule details. Locally farmed, non-sticky, fragrant and milled at fully automated mills, The Jolly rice represents the best quality for your own personal home-gourmet meal.